Accelerating personal progress
Think about the companies you most admire. Did transformational change happen as a result of a single visionary or by people at all levels that consistently acted on the vision? Today, the most effective organizations have discovered the impact of leadership development.
Great leaders are people of character and vision – not titles. The best have a servant's heart. When a CEO departs, does the vision disappear, too? Leadership development throughout an organization is not only creating a competitive advantage, but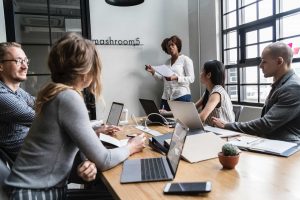 it is also manifesting sustainability.
In sports, it's often referred to as the "next man up" philosophy. Backups must have the awareness, confidence, and accountability that the starters do. In the corporate world, the next generation of leaders is ideally retained and developed by giving them the self-management and organizational tools to sustain the company's vision and core values.
Build a Leadership Pipeline
QLI International's leadership development program works with each individual to develop the attitudes, skills and qualities of an effective leader. Your team will learn how to face challenges, build trust, earn respect as well as set and achieve goals.
Leadership is the process of providing organizational direction and accomplishing necessary objectives. Through leadership development, your organization can achieve more goals, more often.
Your team will learn best practices on how to: